Austria is an economically developed country, and its per capita GDP ranks among the top in Europe. Austria has a well-developed service industry with strong competitiveness in finance, tourism and other fields. Austria's industrial sector is technologically advanced and focuses on innovation.
It is mainly oriented to the international market and occupies a place in the international market with its unique technological advantages in special fields.
Austria attaches great importance to environmental protection and vigorously develops green industries, making energy conservation, environmental protection, and green energy become new competitive industries in Austria.
Are you looking for Silicone Rubber Molded Manufacturers and Suppliers in Austria? We have compiled the Top 5 Silicone Rubber Molded Manufacturers and Suppliers in Austria list for you to pick as below:
1. RICO GROUP
Location: Thalheim/Wels, Austria
Company type: Manufacturing
Year founded: 1967
The number of employees: 200-299
Main Services: Liquid silicone rubber (LSR), Solid silicone rubber, Solid silicone rubber (HTV)
RICO GROUP Company Profile
RICO GROUP is a premium global provider of complex individual elastomer and plastics projects. Through four locations worldwide the group has established a globally powerful technology and production network.
Its portfolio of service range from the manufacturing of injection molds to the special production of customized components, with consulting costs included throughout development stages.
The group focuses on the processing of elastomers, particularly in the liquid silicone rubber (LSR) and solid silicone rubber (HTV) varieties.
The parts are manufactured using one-shot, two-shot or multi-component injection molding, such as LSR + thermoplastics, rubber + thermoplastics, LSR + metal, LSR + LSR, thermoplastics + LSR + metal inserts.
The molds and their components are used in a wide range of applications throughout the medical, automotive and sanitary industries. Though many of the components are not readily visible, they contribute significantly to the proper function and safety of the silicone rubber products.
2. LAMINAR
Location: Austria
Company type: Manufacturing
Year founded: 1963
The number of employees: 200-299
Main Services: Liquid Silicone Rubber Injection Molding, Compression Rubber Moldings, Custom silicone and rubber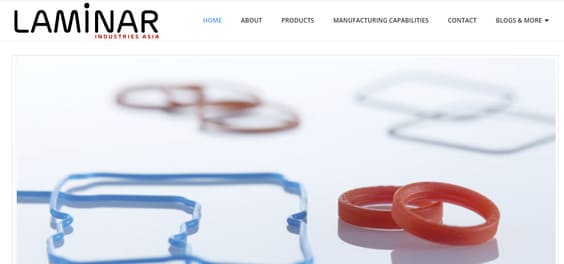 LAMINAR Company Profile
Their family have been in business for over 60 years, as a result their customers receive exceptional level of care, attention and experience. With your purpose in mind, Laminar Industries is committed to delivering quality custom Polymer solutions.
To further their depth in this industry, they invest in clean facilities and technologies that allow them to be highly specialized in Liquid Silicone Rubber Injection Molding and Compression Rubber Moldings. So please consider them when you need quality custom silicone and rubber.
Laminar Industries is a global silicone and rubber manufacturer. They work with companies to take their design from prototyping to full production. Their business offices stretches globally offering you the convenience to speak to our team during your business hours.
They are spreading the word about our capabilities on Liquid Silicone Injection Molding and Compression Moldings across the Globe. With the travel landscape changing, it is more important for them to have a presence close to their customers.
Their industry experience includes but is not limited to Consumer Electronics, Medical devices, Health, Automotive, Home Electronics, Automation, and other industries. Please do reach out and see what they can do. They are ISO 13485 Medical Devices and Quality ISO 9001 Certified.
3. RICO
Location: Thalheim bei Wels, Austria
Company type: Manufacturing
Year founded: 1994
The number of employees: 200-299
Main Services: Liquid silicone rubber (LSR), Silicone injection molding
RICO Company Profile
At RICO, every day they work in accordance with just a few simple principles. But these values are what distinguish their approach from that of many other companies and employers. People want straight talk, promises that are kept, and genuine recognition for the work they do.
They have been manufacturing injection molds and automation components for fully-automated elastomer processing since 1994. RICO produces molds for processing liquid silicone rubber (LSR) and high temperature vulcanizing silicone rubber (HCR), but they are also experts when it comes making multi-component molds.
Their injection molds are designed and simulated using state-of-the-art CAD systems and then produced with the latest generation of machines. They develop unique concepts that feature fully-automated production using their proprietary cold runner technology, and valve gate nozzle systems (up to 160 cavities); these concepts also minimize cycle times and reduce set-up times thanks to master mold concepts.
4. Starlim
Location: Scitico, Austria
Company type: Manufacturing
Year founded: 1984
The number of employees: 100-199
Main Services: Silicone injection molding, injection molding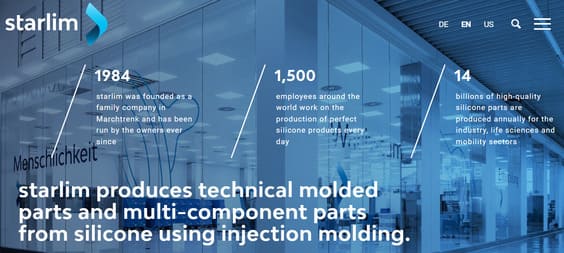 Starlim Company Profile
Starlim is the world's largest processor of liquid silicone and specializes in the injection molding production of small parts made of silicone using one-component and multi-component technology. Their silicone parts can be found, for example, in cars, in baby pacifiers, but also in the kitchen drawer – often visible, but sometimes also installed invisibly.
As part of an international group of companies (Austria, Canada, China, Germany, Italy, Morocco), they produce over 14 billion silicone parts every year for a wide variety of industries and applications. starlim is not only a contract manufacturer, but also a B2B supplier and Tier 2 or Tier 3 supplier for the automotive industry.
Starlim is still a family-run company that has been run by the owners since it was founded in 1984. You can read about other highlights from the history of the successful silicone injection molding specialist in our company history.
5. Dymotek Molding Technologies
Location: Ellington, Austria
Company type: Manufacturing
Year founded: 190
The number of employees: 100-199
Main Services: Injection Molding, Liquid Silicone Molding, Assembly

Dymotek Molding Technologies Company Profile
Since 1990, Dymotek Molding Technologies has been designing , molding, and bringing innovative plastic molding and injection molding solutions to the marketplace.
They manufacture beyond plastic parts, Following their 6-point guiding philosophy, their team provides superior liquid silicone injection molding services.
They maintain their expertise by researching, learning, and adapting to your industry. Dymock welcomes challenges as an opportunity to create innovative solutions. They stay ahead of the latest plastic and injection molding processes to deliver cutting-edge advantages.
Their team leverages our national and global partnerships to access the industry's finest machinery, tooling, robotics and raw materials. Dymotek was founded on the values of truth, respect, fairness and hard work, and they deliver these with every business relationship, Dymotek is ISO 9001:2015 and ISO 13485:2016 certified.
If You're Looking For More Silicone Rubber Molded Manufacturers, Also You Can Choose A Chinese Injection Mold Supplier: Zetar Mold
Zetar Mold
Location: Shanghai, China
Company type: Manufacturing
Year founded: 2005
The number of employees: 201-300
Main Services: Silicone Rubber Product Design, Silicone Rubber Mold Making, Silicone Rubber Product Manufacturing, Assembly, Post-processing and Packaging
Other Products: Plastic Injection Mold, Plastic Injection Molding Manufacturing, Overmolding injection molding China, Insert Molding Products, 3D printing and CNC Prototyping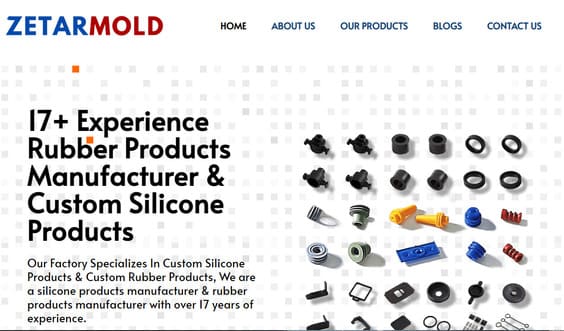 Zetar Mold Company Profile
Over the past 17+ years, we have built our company into a Silicone Rubber Product Design, Silicone Rubber Mold Making, Silicone Rubber Product Manufacturing, Assembly, Post-processing and Packaging all in one juggernaut.
Through steady organic growth and strategic acquisitions, we've seen decades of excellent performance. Scroll through our history to see some of our corporate highlights.
We Have Our Own Factories In Shanghai, Jiangsu And Zhejiang. In 2020, COVID-19 Spread Globally And China Was Also Greatly Affected.
In Order Not To Affect The Production Schedule Of The Projects, They Started To Set Up Sub-Factories In Jiangsu and Zhejiang.
Conclusion
Finding a trustworthy silicone rubber manufacturer and supplier nowadays is not that easy, especially since many new manufacturers have emerged just to keep up with the trend. But hopefully, their list was able to help you find the one that best suits your requirements. It is recommended to do a background check before creating partnerships with manufacturers because they will play a huge part in the success of your business.
If you're looking for more Silicone Rubber Molded Manufacturers and Suppliers, check out the following articles: