Silicone Rubber industry is one of the important plantation industries in Malaysia and an important part of the national economy. It mainly includes two parts: natural rubber planting and silicone rubber products production.
At present, Malaysia is the world's third largest producer and exporter of natural rubber after Thailand and Indonesia, the first largest exporter of rubber gloves, rubber conduit and latex wire, and the fifth largest consumer of rubber.
In the early 1990s, the output and export volume of natural rubber in Malaysia accounted for 25% and 30% of the world total. In the late 1990s, due to the continuous low international rubber price, the silicone rubber production capacity shrank, and the output and export volume were sharply reduced to 9% and 4%.
Since 2002, with the increase of the demand for rubber in the international market, the international rubber price rose, and the Malaysian rubber industry began to recover. In 2004, 2005 achieved the best level, 2006 sustained optimistic.
Are you looking for Silicone Rubber Molded Manufacturers and Suppliers in Malaysia? We have compiled the Top 5 Silicone Rubber Molded Manufacturers and Suppliers in Malaysia list for you to pick as below:
1. LAMINAR
Location: Malaysia
Company type: Manufacturing
Year founded: 1960
The number of employees: 200-299
Main Products: Molded Polymer, Die Cut/ Stamping, EMI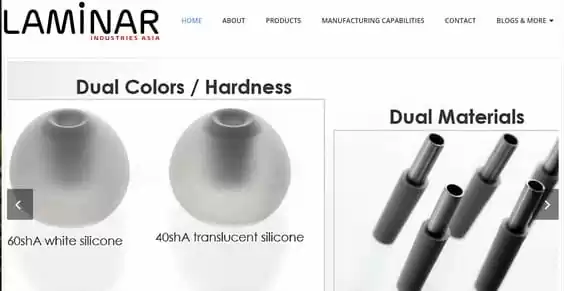 Laminar Industries Company Profile
Laminar Industries is a global silicone and rubber manufacturer. They work with companies to take their design from prototyping to full production. Their business offices stretches globally offering you the convenience to speak to their team during your business hours.
They are spreading the word about their capabilities on Liquid Silicone Injection Molding and Compression Moldings across the Globe. With established history in Asia, their latest focus is in the United States. While developed companies are global they strive to be local where you sit.
With the travel landscape changing, it is more important for us to have presence close to their customers. Their industry experience includes and but not limited to Consumer Electronics, Medical Device, Health, Automotive, Home Electronics, Automation and other industries. Please do reach out and see what we can do. They are ISO 13485 Medical Devices and Quality ISO 9001 Certified.
2. Lai Mould
Location: Johor, Malaysia
Company type: Manufacturing
Year founded: 1984
The number of employees: 200-299
Main Services: Rubber Moulding, LST Moulding, CNC Lathe, CNC EDM, LSR Injection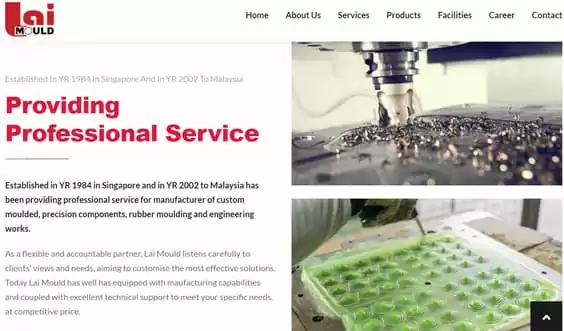 Lai Mould Company Profile
Established in YR 1984 in Singapore and in YR 2002 to Malaysia has been providing professional service for manufacturer of custom rubber moulded, precision components, rubber moulding and engineering works.
As a flexible and accountable partner, Lai Mould listens carefully to clients' views and needs, aiming to customise the most effective solutions. Today Lai Mould has well has equipped with maufacturing capabilities and coupled with excellent technical support to meet your specific needs, at competitive price.
3. Ee Ton Industries
Location: Perak, Malaysia
Company type: Manufacturing
Year founded: 1999
The number of employees: 100-199
Main Services: Liquid silicone rubber injection moulding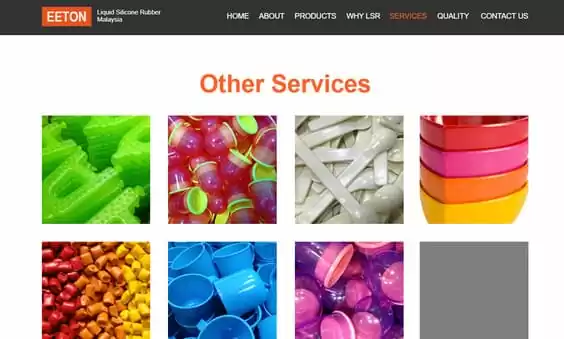 Ee Ton Industries Company Profile
Established in 1999 as an Original Equipment Manufacturer (OEM) for liquid silicone rubber (LSR) products for infants, they grew to be an incorporated company in 2002 and proudly acquired ISO 9001:2008 Quality Management System accreditation in 2015.
Through these years, they as an OEM have grown from strength to strength and expanded our business to produce high quality liquid silicone rubber products for other companies. As a leading industry specialist, they can leverage their expertise and resources to meet clientele needs as well as customize a variety of products in different shapes, sizes, functions and materials.
They have continually improved and upgraded their production facilities to integrate latest technology that allows them to meet ever changing demands.
They are committed towards greater expansion and growth. While growing their base market manufacturing baby products, they are also gearing to expand their production capacity in electronics, automotive, medical and other potential consumer markets.
4. PTROPE INDUSTRIES
Location: Selangor D.E. Malaysia
Company type: Manufacturing
Year founded: 1990
The number of employees: 100-199
Main Products: Mechanical Structure Rubber Buffer, Loading Bay Rubber Bumper & Fender, Heavy Vehicle Wheel Chock & Wheel Stop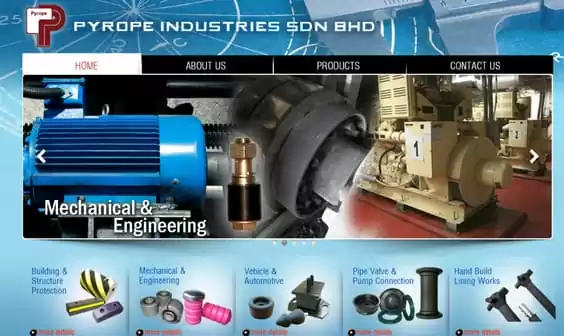 PTROPE INDUSTRIES Company Profile
Pyrope manufacture a wide range of industrial silicone rubber products, which can be Custom Made according to specification and requirements from concept to prototype, and production to finished items.
They stride to well achieve understanding our customer's requirements by applying their vast experiences and proven abilities to produce high qualities products requested.
They produce and develop General Industrial Mechanical & Engineering Parts, Building & Vehicle Structure Protection Products, Pipe, Valve & Pump Connection, Automotive Components, Hand Build Lining Works and other sectors of application.
The well engineered Rubber Product's performance will provide more advantages for the production application, achieving a strong support to your machinery which may have active or passive disturbance effect, and in return generates higher profit as a whole.
5. RUGAVAL RUBBER SDN BHD
Location: Selangor Malaysia
Company type: Manufacturing
Year founded: 1984
The number of employees: 100-199
Main Products: Rubber Road Hump, Rubber Wheel Chock, Rubber Ball, Rubber Diaphragm, Rubber Gasket, Rubber Ring, Rubber Sucker, Rubber Block, Rubber Fender, Anti-Vibration Rubber Pad, Rubber Bush, Rubber Coupling, Rubber Cap, Rubber Mounting, Rubber Grommet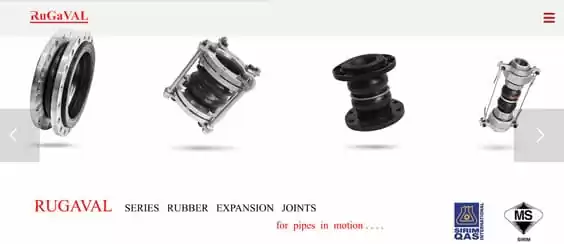 RUGAVAL RUBBER SDN BHD Company Profile
RUGAVAL RUBBER SDN BHD is rubber products manufacturer in Malaysia. RUGAVAL Rubber Sdn Bhd is equipped with various proficient rubber manufacturing processes which include compound mixing, compression moulding, silicone rubber injection moulding and etc. One of the most important moulding department is manufacturing of Rubber Expansion Joints.
They have 40 years experience in manufacturing rubber expansion joints. Three main types of rubber expansion joints designed, which is single arch, double arch and union type. Beside rubber expansion joints, RUGAVAL also produce Rubber Sheeting, material they have SBR, Neoprene (Chloroprene, CR), EPDM (Ethylene Propylene Diene Monomer), NBR (Nitrile), Silicone, and Viton.
If You're Looking For More Silicone Rubber Molded Manufacturers, Also You Can Choose A Chinese Injection Mold Supplier: Zetar Mold
Zetar Mold
Location: Shanghai, China
Company type: Manufacturing
Year founded: 2005
The number of employees: 201-300
Main Services: Silicone Rubber Product Design, Silicone Rubber Mold Making, Silicone Rubber Product Manufacturing, Assembly, Post-processing and Packaging
Other Products: Plastic Injection Mold, Plastic Injection Molding Manufacturing, Overmolding injection molding China, Insert Molding Products, 3D printing and CNC Prototyping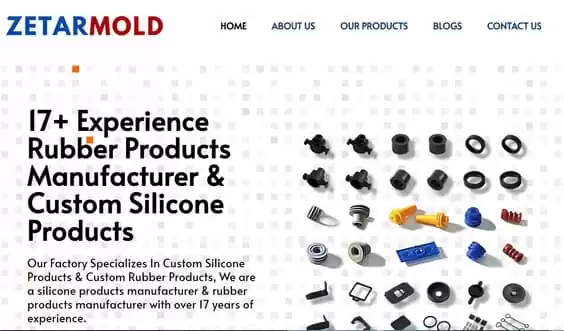 Zetar Mold Company Profile
Over the past 17+ years, we have built our company into a Silicone Rubber Product Design,Silicone Rubber Mold Making, Silicone Rubber Product Manufacturing, Assembly, Post-processing and Packaging all in one juggernaut.
Through steady organic growth and strategic acquisitions, we've seen decades of excellent performance. Scroll through our history to see some of our corporate highlights.
We Have Our Own Factories In Shanghai, Jiangsu And Zhejiang. In 2020, COVID-19 Spread Globally And China Was Also Greatly Affected.
In Order Not To Affect The Production Schedule Of The Projects, They Started To Set Up Sub-Factories In Jiangsu and Zhejiang.
Conclusion
Finding a trustworthy silicone rubber manufacturer and supplier nowadays is not that easy, especially since many new manufacturers have emerged just to keep up with the trend. But hopefully, their list was able to help you find the one that best suits your requirements. It is recommended to do a background check before creating partnerships with manufacturers because they will play a huge part in the success of your business.
If you're looking for more Silicone Rubber Molded Manufacturers and Suppliers, check out the following articles: