Sri Lanka rubber planting area in 1978 202,000 hectares, production up to 165,000 tons, after due to low rubber price and Southeast Asia financial crisis and other reasons, Sri Lanka rubber planting area decreased sharply, except white crepe gum other rubber varieties are not widely used in their country.
With the recovery of the rubber market, the Sri Lankan government has vigorously promoted rubber planting in recent years, constantly expanding the planting area, and the rubber price tends to be reasonable. In 2006, its rubber production has reached 106,000 tons, among which the export of about 45,000 tons.
Are you looking for Silicone Rubber Molded Manufacturers and Suppliers in Sri Lanka? We have compiled the Top 5 Silicone Rubber Molded Manufacturers and Suppliers in Sri Lanka list for you to pick as below:
1. Chamara Rubber Rollers
Location: Gothatuwa New Town, Sri Lanka
Company type: Manufacturing
Year founded: 1972
The number of employees: 200-299
Main Products: Mold Making Silicone Liquid Rubber, Folding Rollers, Silicone Rollers, Silicone Rubber Liquid, Liquid Silicone Rubber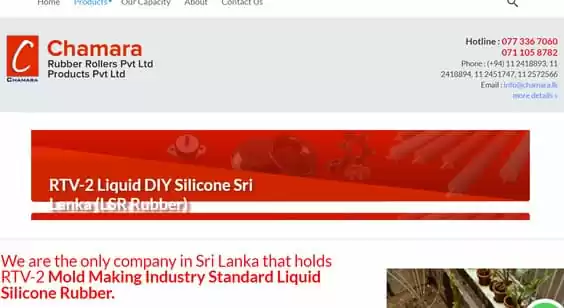 Chamara Rubber Rollers Company Profile
Chamara Rubber Rollers was founded in the year of 1972 by their current CEO and Managing Director, Wayaman Uragoda and his wife Kusum Uragoda. Todate Chamara remains as a family business looking after their beloved clientele for over 47 years and going stronger than ever before.
When Wayaman Uragoda established the business in 1972 as a single person manufacturing company he had just one dream; Helping every Sri Lankan industry with their Rubber Roller and Rubber Part needs right here in the country so businesses can keep their hard earned money within the country and use it on their own developments and expansions.
It's amazing to see how far Charama has come building strong relationships with over 1500 clients from all over the country. Chamara believes in delivering a Quality product, fast, at an affordable price. They firmly believe this sets them apart from all the other silicone rubber products manufacturers from around the world.
2. Boehm + Lackner Multi Moulds (Pvt) Ltd
Location:Katunayake, Sri Lanka
Company type: Manufacturing
Year founded: 1993
The number of employees: 200-299
Main Services: Injection Moulding of Engineering Plastics and Liquid Silicone Rubber Components, Design & Manufacture of Precision Moulds for the Thermoplastic and Rubber Industry
Boehm + Lackner Multi Moulds (Pvt) Ltd Company Profile
Incorporated in 1993 with German expertise, professionalism and technology, they are the "Pioneers" and "The Leader" in Sri Lanka for Precision Mould Making & Silicone Rubber Injection Moulding. Their factory is located in the vicinity of the Katunayake International Airport within the Export Processing Zone of Sri Lanka and 30 kms away from the Colombo harbour.
They employ a workforce of over 250 trained, qualified & dedicated personnel supported by German Technical Management. Their employees are their prime asset. They manufacture to High Precision and Quality Standards for the Automotive, Electro/Electronics, IT, Household Appliances, Rubber Industry and other industrial sectors.
3. RTV Silicone Rubber
Location: Easton, Sri Lanka
Company type: Manufacturing
Year founded: 2002
The number of employees: 100-199
Main Products: Silicone Rubber Molds, Latex Molds, Food Grade Silicone, Clear Silicone, Concrete Molds, Resin Molds, Soap Molds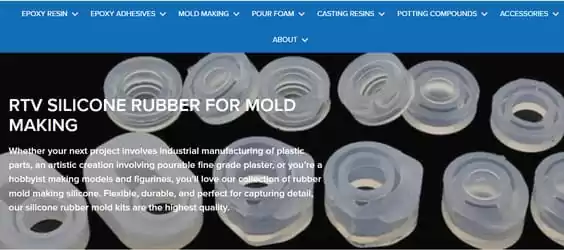 RTV Silicone Rubber Company Profile
Whether your next project involves industrial manufacturing of plastic parts, an artistic creation involving pourable fine grade plaster, or you're a hobbyist making models and figurines, you'll love their collection of rubber mold making silicone. Flexible, durable, and perfect for capturing detail, their silicone rubber mold kits are the highest quality.
4. Microcells Pvt Ltd
Location: Piliyandala, Sri Lanka
Company type: Manufacturing
Year founded: 1978
The number of employees: 100-199
Main Products: Rubber Mats, Rubber Sheeting, Rubber Flooring, Rubber Matting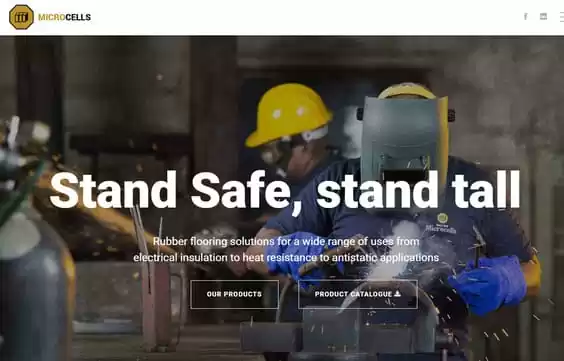 Microcells Pvt Ltd Company Profile
Microcells is a premium rubber sheeting and flooring products manufacturer based in Sri Lanka. As a customer-centric organization, Microcells focuses on ensuring customer satisfaction by providing tailor-made high-quality solutions for its global client base. Its 43 long years in the industry are a testament to its commitment to customer satisfaction, innovation, and quality.
From inception, Microcells was always focused on quality and consistency, and the acceptance of their rubber-making products first received from the American and European markets was a clear indication of their commitment to quality and consistency.
Most of these initial clients are still supplied by us today and have been joined by many new customers from all parts of the world catering to a variety of diverse industries. Today they have a loyal customer base exceeding 80 customers in over 20 countries around the world.
5. Shums Company Ltd
Location:Colombo, Sri Lanka
Company type: Manufacturing
Year founded: 1948
The number of employees: 100-199
Main Services: Natural Rubber, Sole Crepe, Brown Crepe, RSS 2 3 TPC1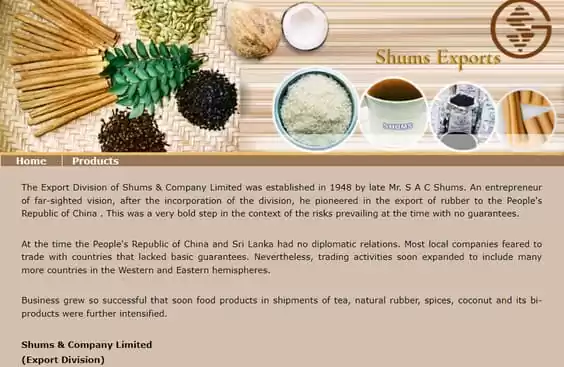 Shums Company Ltd Company Profile
In 1948 Late S.A.C.Shums along with his brothers S.A.C.H.Jiffry, S.A.C.Mosin, S.A.C.OmarThassim, S.A.C.Cader, and an associate H.L.M.A.Cader established Shums and Company.
The Company's operations revolved around Trading and exports of natural rubber, spices, coconut products, and other produce from Ceylon-now called Sri Lanka.
A pioneer in the exports of Rubber, spices, and coconut products, the Company has now diversified into imports and exports, trading, travels, plantations, fruit canning, gems and jewelry, agency representatives, the entertainment industry, and a host of other spheres. The Company was first situated in Maliban Street, Colombo 11, and relocated in Fort, Colombo 1 afterward. At the time, Fort was considered one of the most commercial trading areas in Ceylon.
Over the years the Group has diversified into several areas of business with a large work force and presently owns many subsidiaries and associate companies in Sri Lanka and overseas. The Company imports include Chemicals, Foodstuffs, Hardware items, Hair Care products, Cosmetic and Fresh Fruits and the Group is constantly looking out for new products to meet the local demand.
If You're Looking For More Silicone Rubber Molded Manufacturers, Also You Can Choose A Chinese Injection Mold Supplier: Zetar Mold
Zetar Mold
Location: Shanghai, China
Company type: Manufacturing
Year founded: 2005
The number of employees: 201-300
Main Services: Silicone Rubber Product Design, Silicone Rubber Mold Making, Silicone Rubber Product Manufacturing, Assembly, Post-processing and Packaging
Other Products: Plastic Injection Mold, Plastic Injection Molding Manufacturing, Overmolding injection molding China, Insert Molding Products, 3D printing and CNC Prototyping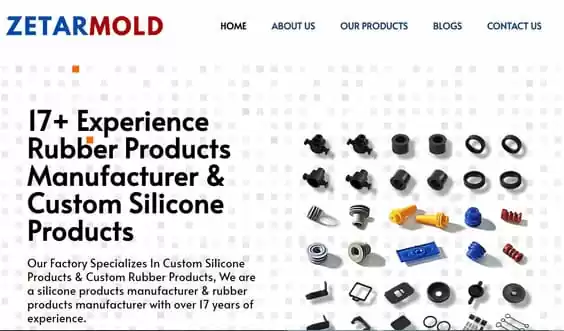 Zetar Mold Company Profile
Over the past 17+ years, we have built our company into a Silicone Rubber Product Design, Silicone Rubber Mold Making, Silicone Rubber Product Manufacturing, Assembly, Post-processing and Packaging all in one juggernaut.
Through steady organic growth and strategic acquisitions, we've seen decades of excellent performance. Scroll through our history to see some of our corporate highlights.
We Have Our Own Factories In Shanghai, Jiangsu And Zhejiang. In 2020, COVID-19 Spread Globally And China Was Also Greatly Affected.
In Order Not To Affect The Production Schedule Of The Projects, They Started To Set Up Sub-Factories In Jiangsu and Zhejiang.
Conclusion
Finding a trustworthy silicone rubber manufacturer and supplier nowadays is not that easy, especially since many new manufacturers have emerged just to keep up with the trend. But hopefully, their list was able to help you find the one that best suits your requirements. It is recommended to do a background check before creating partnerships with manufacturers because they will play a huge part in the success of your business.
If you're looking for more Silicone Rubber Molded Manufacturers and Suppliers, check out the following articles: