Since the 1970s, Singapore's manufacturing value added has been rising steadily, and its GDP share has remained above 20% in most years, a ratio that exceeds that of developed countries such as the United States, the United Kingdom and France during the same period.
The electronics industry is one of Singapore's traditional industries, accounting for more than 40% of Singapore's total manufacturing output. Semiconductors, computer peripherals, data storage and consumer electronics are the focus of its output. Singapore is a global semiconductor manufacturing hub, producing about 20% of the world's semiconductor equipment.
Are you looking for Silicone Rubber Molded Manufacturers and Suppliers in Singapore? We have compiled the Top 5 Silicone Rubber Molded Manufacturers and Suppliers in Singapore list for you to pick as below:
1. GM Singapore
Location: Tong Lee, Singapore
Company type: Manufacturing
Year founded: 1993
The number of employees: 200-299
Main Services: CNC Machining, Rapid Tooling, 3D Printing SLA/SLS, Die Casting, Silicone Moulding, Sheet Metal Pressing, Injection Moulding, Finishing Services
GM Singapore Company Profile
GM Singapore sources the finest talent and the most-advanced manufacturing equipment. Their operation is a combination of the latest in machinery, software, and Manufacturing skill.
They offer quick design verification services for peace of mind and rapid start of production. A free DFM can be provided with a quote, for both prototypes and production.
Quality Control happens at every stage of the process. Products are continually subject to inspection, reducing waste and costs. Completed products are subject to an additional host of quality controls, so that every item leaves their factory is in good condition.
2. Yeakin Plastic
Location: Woodlands, Singapore
Company type: Manufacturing
Year founded: 1981
The number of employees: 500-599
Main Services: Precision Mould Design, Precision Mould Fabrication, Injection and Blow Moulding, Silicon Moulding, Research and Development, Secondary Operations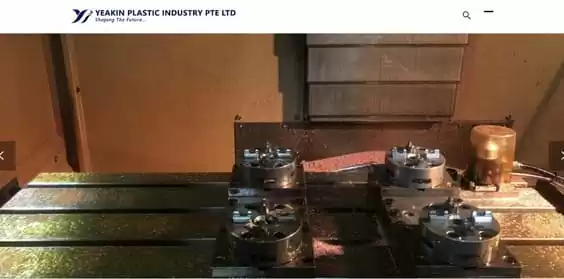 Yeakin Plastic Company Profile
Yeakin Plastic has come a long way since their establishment in June 1981. With an initial modest set-up of six personnel, specializing in mould making and contract moulding for a local company, Yeakin Plastic has since evolved into an established company serving several local and foreign companies.
The YPI Group which comprises 11 plants and nearly 1,800 employees, situated in Singapore, China, and Indonesia, provides a wide spectrum of services from Product & Industrial Design, R&D, Product & Prototype Development, Precision Mould Design, and Fabrication, Injection and Blow Moulding, Silicone Moulding, Secondary Processes, Sub-Assembly and Turnkey Product Assembly, and Logistics for key market segments such as Medical & Healthcare, Automotive, High-End Consumer Electronics, Electrical Appliances, IoT and Consumer Lifestyle industries.
The growth of Yeakin Plastic since their establishment was possible mainly through their commitment to Quality. They believe that their customers deserve the best quality standard and they have consistently adopted the latest Quality Management Systems throughout their organization to ensure that their business processes consistently meet customer requirements and enhancing their satisfaction.
3. Laminar Industries
Location: Cecil St, Singapore
Company type: Manufacturing
Year founded: 1995
The number of employees: 100-199
Main Products: Molded Polymer, Die Cut/Stamping, EMI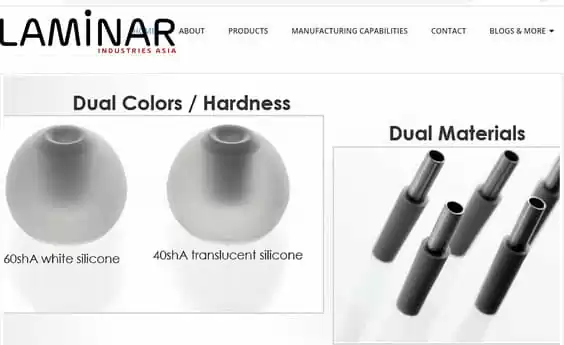 Laminar Industries Company Profile
Laminar Industries is a global silicone and rubber manufacturer. It is a premier polymer molder in the industry. Their capabilities includes Liquid Silicone Injection Molding (LIM) and Compression Molding. They cater to their customer's need and partner with engineering teams to make the part to specifications.
They work with companies to take their design from prototyping to full production. Their business offices stretches globally offering you the convenience to speak to their team during your business hours.
They are spreading the word about their capabilities on Liquid Silicone Injection Molding and Compression Moldings across the Globe. With established history in Asia, their latest focus is in the United States.
While developed companies are global they strive to be local where you sit. With the travel landscape changing, it is more important for them to have presence close to their customers.
Their industry experience includes and but not limited to Consumer Electronics, Medical Device, Health, Automotive, Home Electronics, Automation and other industries. They are ISO 13485 Medical Devices and Quality ISO 9001 Certified.
4. Maka Engineering Pte. Ltd.
Location: Kaki Bukit, Singapore
Company type: Manufacturing
Year founded: 1997
The number of employees: 100-199
Main Products: Precision Rubber Molding, Plastic Injection Molding, Precision Die Cutting, Customised Foam Product, Laser Marking, Engraving, Contract Assembly Services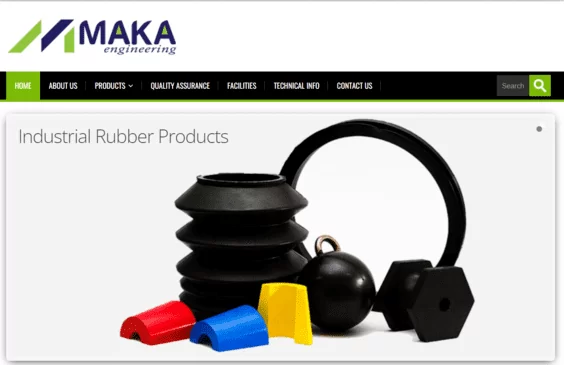 Maka Engineering Pte. Ltd. Company Profile
Maka Engineering Pte. Ltd. is Singapore branch of the Maka Group, one of the premium manufacturer of Custom Molded Products. Today, with more than 30 years experience, Maka has diversified its main core business into designing, manufacturing, supplying and exporting of Rubber, Plastic & Foam Components for various industries.
Besides serving multinational and SME in Singapore they are exporting to customers in USA, Canada, Japan, Germany, Hungary & Indonesia. Their high quality Rubber, Plastic and Foams Products are used for industries like Oil and Gas, Automotive, Electrical, Construction, Telecommunication and many more.
Maka provides designing, manufacturing and exporting of Rubber, Plastic and Foams Components for various industries. Offering rubber compression molding, transfer molding, injection molding and die cutting. In addition to this, they also provide Contract Assembly Services and Laser Marking / engraving services to their customers.
5. SinCo Technologies Pte Ltd
Location: North Coast, Singapore
Company type: Manufacturing
Year founded: 1995
The number of employees: 100-199
Main Products: Conventional compression molding of silicone rubber, multiple stack tooling design, liquid injection molding (LSR), transfer molding and insert molding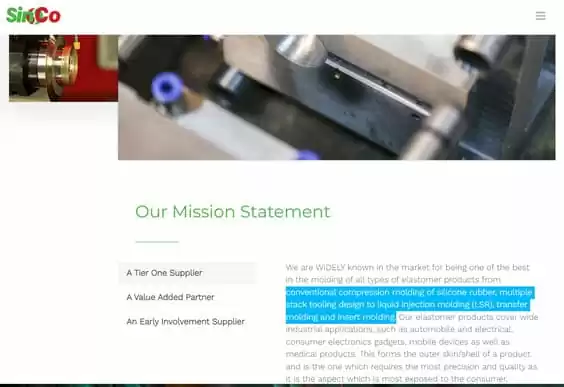 SinCo Technologies Pte Ltd Company Profile
Founded in 1995, Senso Technologies is a leading integrated precision manufacturer of Plastics, Rubber, and Silicone engineering components, providing comprehensive offerings in the fields of communication networks; computing and storage; multimedia; industrial and semiconductor capital equipment; defense and aerospace; medical; clean technology (CleanTech) and automotive.
Led by an experienced management team garnered from some of the most highly competitive engineering sectors, SinCo's 5000-strong team, spanning over 6 countries; runs numerous programs for most major electronics product labels – this last point is the testament to the extensive certifications SinCo has obtained throughout its decades of operations.
SinCo Technologies participating in an on-going Singapore based non-profit CSR initiatives that empowers inclusivity for disadvantaged communities, such as persons with disabilities and low-income families, through sustainable engineering and technology solutions. They adopts a focused approach to community volunteering by building long-term working relationships one charity at a time.
If You're Looking For More Silicone Rubber Molded Manufacturers, Also You Can Choose A Chinese Injection Mold Supplier: Zetar Mold
Zetar Mold
Location: Shanghai, China
Company type: Manufacturing
Year founded: 2005
The number of employees: 201-300
Main Services: Silicone Rubber Product Design, Silicone Rubber Mold Making, Silicone Rubber Product Manufacturing, Assembly, Post-processing and Packaging
Other Products: Plastic Injection Mold, Plastic Injection Molding Manufacturing, Overmolding injection molding China, Insert Molding Products, 3D printing and CNC Prototyping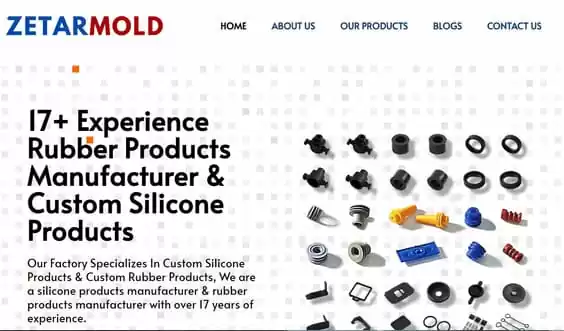 Zetar Mold Company Profile
Over the past 17+ years, we have built our company into a Silicone Rubber Product Design,Silicone Rubber Mold Making, Silicone Rubber Product Manufacturing, Assembly, Post-processing and Packaging all in one juggernaut.
Through steady organic growth and strategic acquisitions, we've seen decades of excellent performance. Scroll through our history to see some of our corporate highlights.
We Have Our Own Factories In Shanghai, Jiangsu And Zhejiang. In 2020, COVID-19 Spread Globally And China Was Also Greatly Affected.
In Order Not To Affect The Production Schedule Of The Projects, They Started To Set Up Sub-Factories In Jiangsu and Zhejiang.
Conclusion
Finding a trustworthy silicone rubber manufacturer and supplier nowadays is not that easy, especially since many new manufacturers have emerged just to keep up with the trend. But hopefully, their list was able to help you find the one that best suits your requirements. It is recommended to do a background check before creating partnerships with manufacturers because they will play a huge part in the success of your business.
If you're looking for more Silicone Rubber Molded Manufacturers and Suppliers, check out the following articles: