Natural rubber in Canada has likely been in use in some form or another for a very long time. Specifically, some South American tribes report that their people have been using rubber tree sap to make household items for thousands of years.
In addition, we believe that silicone rubber was used by the Mayans as far back as 1600 BC. Silicone Rubber molding, though, didn't really start taking place until after the development of vulcanization.
Are you looking for Silicone Rubber Molded Manufacturers and Suppliers in Canada? We have compiled the Top 10 Silicone Rubber Molded Manufacturers and Suppliers in Canada list for you to pick as below:
1. Pro-Flex Rubber
Location: St-Alphonse, Canada
Company type: Manufacturing
Year founded: 1982
The number of employees: 200-299
Main Services: Rubber and Silicone moulding, Rubber &Silicone Extrusion, Rubber parts manufacturing, Engineering
Pro-Flex Rubber Company Profile
At Pro-Flex Rubber, they take great pride in the quality of their relationships with their customers. They share the same passion to develop innovative and efficient products from a global solution perspective. They deploy all facets of their expertise for innovation.
Integrated in a host of activities, their products are their built with pride — they are an integral part of human activity: repair pipe parts, train and bus parts, wind turbine parts, wheelchair wheel covers, hockey pucks, to name but a few.
Their test benches are designed to replicate real-life applications as closely as possible. Their testing process uses a variety of dies and specialized tools and instruments to ensure the quality of their rubber silicone products.
2. Silcotech
Location: Ontario, Canada
Company type: Manufacturing
Year founded: 1984
The number of employees: 200-299
Main Services: Product Development, Prototyping, Project Management, Tool Design, Tool Engineering, Mass Production, 2-Shot Silicone Molding, Micro-molding
Silcotech Company Profile
Silcotech® has been a global leader in liquid injection molding for the medical, healthcare, automotive, packaging, consumer electronics, and consumer markets since 1984.
Based in Bolton, Ontario, Canada, their 22,500 square foot manufacturing facility runs 24/7 where their highly-trained, specialized technicians serve a global customer base for all their design, tool-making and manufacturing silicone rubber injection molding needs. Silcotech® also owns and operates a similar facility in Noida, India.
From simple, straightforward projects to those with complex requirements, it's their vision that creates the added value for their customers. That vision boils down to a commitment to be the most technically advanced silicone molder in the industry.
Silcotech® is ISO 9001:2015, ISO 13485:2016, and ISO 14001:2015 registered and FDA compliant utilizing lean Six Sigma, GMP, and Risk Assessment.
3. The Rubber Group
Location: Rochester, Canada
Company type: Manufacturing
Year founded: 1977
The number of employees: 200-299
Main Services: Custom Molded Rubber Parts, Standard Molded Rubber Parts, Value-Added Manufacturing, Contitech Inndustrial Vibration Control Products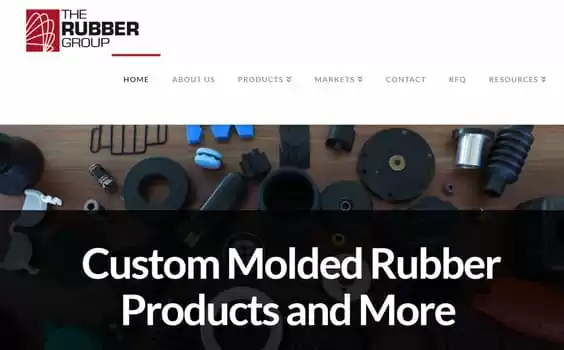 Rubber Group Company Profile
The Rubber Group supplies molded rubber products to companies in markets such as industrial, transportation, medical, and consumer products. From startups to Fortune 500 firms, they meet the needs of original equipment manufacturers (OEM) and their suppliers.
They are ISO 9001:2015 certified, ITAR compliant, CCR registered, and committed to lean manufacturing and Kanban scheduling.
From prototypes and low-volume manufacturing to complete production runs, The Rubber Group molds the standard and custom rubber products that you need. Importantly, they can also help you to solve design, manufacturing, and supply chain challenges.
The Rubber Group is a rubber molding company in Rochester, New Hampshire (USA) that specializes in custom molded rubber products. They use transfer, compression, and injection molding to make parts like these: Molded rubber grommets, Molded rubber bellows, Molded rubber seals, and Molded rubber hose.
The Rubber Group also provides molded custom rubber products such rollers and drive wheels, rubber profiles, tubing, and cord. In addition, they mold standard mechanical products like isolation mounts, bumpers, appliance feet, and O-rings in many different shapes, sizes, and styles.
4. A.J. Rubber & Sponge Ltd
Location: Hamilton, Canada
Company type: Manufacturing
Year founded: 1996
The number of employees: 200-299
Main Services: Die Cutting, Sheeting&Slitting, Horizontal Splitting, Kiss Cutting, Laminating, Custom Gaskets& Seals, Roll Slitting, Weather Stripping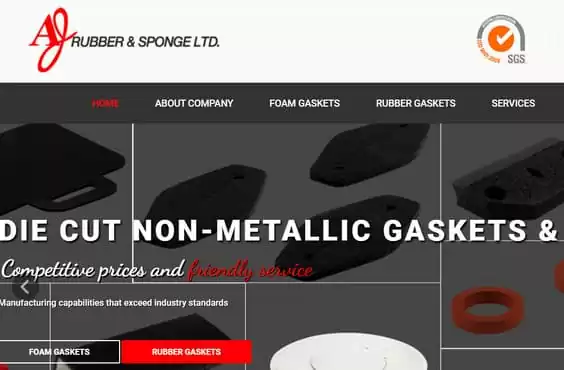 A.J. Rubber & Sponge Ltd Company Profile
A.J. Rubber & Sponge Ltd. is a foam, sponge, and rubber gasket manufacturer based in Ontario, Canada. They provide service across Canada and Northern USA. They boast more than 50 years of experience in the cellular rubber products industry, with an amazing manufacturing range to help meet their customer's requirements.
They take great pride in the high quality services and products that they provide for a variety of applications, and they regularly strive to widen their abilities to better service an international economy. They have been a pioneering leader in the precision die cutting and production of superior quality parts for a variety of industries.
5. Sculpture Supply Canada
Location: Ontario, Canada
Company type: Manufacturing
Year founded: 1988
The number of employees: 100-199
Main Products: Modeling Materials & Tools, Molding Rubbers, Casting Materials
Sculpture Supply Canada Company Profile
For all your sculpting, rubber mold making, and casting supplies, just visit or call Sculpture Supply Canada, Canada's leading supplier of products and services specifically for artists and industry since 1988.
If you work in Special FX, Mold Making, Model-Making, 3-D Design, Life Casting, Architectural Design, Commercial Art, Plaster Casting, Ornamental and Pre-cast Concrete, Stone Carving, Restoration, Prototyping, Taxidermy or Candle Making you are most certain to find quality products from leading suppliers of modeling, molding and casting materials.
Sculpture Supply Canada distinguishes itself from other art suppliers with a knowledgeable and courteous staff which provides expert technical advice to assist you every step of the way.
6. Minnesota Rubber & Plastics
Location: Minneapolis
Company type: Manufacturing
Year founded: 1983
The number of employees: 100-199
Main Services: Material compound development, engineering design and manufacturing of custom molded elastomeric and thermoplastic components and assemblies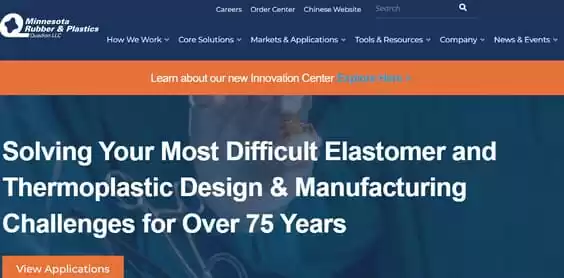 Minnesota Rubber & Plastics Company Profile
They have an advantage over many rubber and plastics manufacturers because they place a great deal of emphasis on research and development. Their technical support staff provides the resources to design, formulate, develop and test materials and parts.
What's more, they are uniquely positioned to offer both silicone rubber and plastic combination parts, including sub-assemblies. This allows us to provide greater development and production efficiencies, thereby reducing development time and minimizing both short and long term costs.
From prototyping to final production, their state-of-the-art design engineering services provide timely answers to difficult design issues. Their CAD/CAM and FEA systems allow us to offer design alternatives quickly and precisely while their tool development and secondary press operations are second to none.
Finally, prior to committing to production, their prototyping services provide you with production quality sample parts for final testing.
7. HK Canada
Location:Delta,Canada
Company type: Manufacturing
Year founded: 1995
The number of employees: 50-99
Main Products: Silicone rubber parts, Medical parts, Metal auto parts, Metal lamps, Overmolding parts, Plastic auto parts, Plastic lamps, Die-casting, Electronic shell
HK Canada Company Profile
Ever since their company was established on June 01, 1995, Hong Kong Mould Manufacturing of Canada Ltd. has been building a strong customer base in both Canada and the United States of America by producing quality products for their clients.
Hong Kong Mould Manufacturing of Canada Ltd. is beginning to expand within the markets in Europe and Asia.They build up a " Pacific Ocean Bridge" to connecting North America and Asia for their clients since July 01, 2001 Feng Ye Quality Manufacturing of China Company established in China.
They make many kinds of products, including covers of electric medical devices And parts, precision hardware fittings, automotive components and plastic lens of lighting fixtures,etc.
Their has a complete quality control system, which has successfully achieved ISO 9001,IATF 16949 quality management system certification. Insisting on the concept of customer satisfaction and qualities, they sincerely look forward to win-win cooperation with you.
8. Krishani Molds & Parts
Location: Mississauga, Canada
Company type: Manufacturing
Year founded: 1985
The number of employees: 100-199
Main Products: Rubber Custom Molds, Silicone Molds, Resin Molds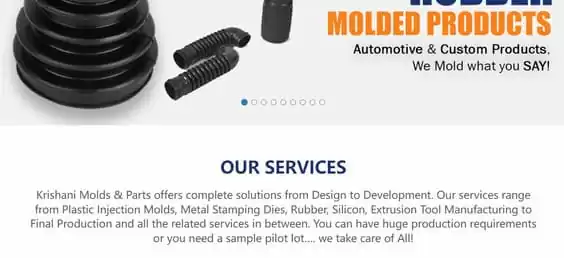 Krishani Molds & Parts Company Profile
At Krishani, they offer unique engineering solutions. The products they manufacture at Krishani Molds and Parts are a great cost-effective but effective in working. They are completely safe to use and are aesthetically excellent.
Krishani is based in Toronto besides having its development center in India. Their main objective is to provide custom engineering solutions. In their company, they have personnel who are highly skilled professionals and have expertise in their work.
They dedicate ourselves in providing services like Concept designing, Tool designing and Development, Mass Production, Machining, and Reverse Engineering. In short, they are fanatical in providing high quality, integrated proficient engineering solutions to their clients. Customer satisfaction is what they are more focused on.
9. Molifern
Location: Markham, Canada
Company type: Manufacturing
Year founded: 1992
The number of employees: 100-199
Main Services: 3D printing, Plastic injection molding, Liquid Silicone Rubber Molding
Molifern Company Profile
The combination of creating and manufacturing proprietary products and breakthrough solutions for customers has led to an enviable reputation as a market leader.
They believe that their unmatched understanding of rotational moulding and other tried and proven manufacturing processes make them the complete products development solution provider.
10. JCAD Inc.
Location: Ontario, Canada
Company type: Manufacturing
Year founded: 2006
The number of employees: 50-99
Main Services: CAD Design and Drafting Services, 3D printing and prototyping, PCB Design prototyping and Manufacturing
J–CAD Inc. Company Profile
J-CAD Inc. has extensive experience in silicone injection molding as silicone is one of the most popular materials used in injection molding. They also work with plastic molding, foam molding and other techniques of mass production if silicone is not the right fit for your project
J-CAD Inc. opened for business in 2006 and since then has been helping clients globally with 3D CAD Design Services, Prototyping, 3D Printed parts, Mold Making, Welding, Machining, Fabrication & Mass Production!
J-CAD Inc. has been involved in the 3D Printing and Rapid Prototyping Industry since its beginning and for this reason they are highly experienced in knowing what can and cannot be done.
There are virtually no limitations to 3D printing but with J-CAD Inc's experience in the industry, they can guide and help you determine the best method to achieve what you're looking to do.
If You're Looking For More Silicone Rubber Molded Manufacturers, Also You Can Choose A Chinese Injection Mold Supplier: Zetar Mold
Zetar Mold
Location: Shanghai, China
Company type: Manufacturing
Year founded: 2005
The number of employees: 201-300
Main Services: Silicone Rubber Product Design, Silicone Rubber Mold Making, Silicone Rubber Product Manufacturing, Assembly, Post-processing and Packaging
Other Products: Plastic Injection Mold, Plastic Injection Molding Manufacturing, Overmolding injection molding China, Insert Molding Products, 3D printing and CNC Prototyping
Zetar Mold Company Profile
Over the past 17+ years, we have built our company into a Silicone Rubber Product Design, Silicone Rubber Mold Making, Silicone Rubber Product Manufacturing, Assembly, Post-processing and Packaging all in one juggernaut.
Through steady organic growth and strategic acquisitions, we've seen decades of excellent performance. Scroll through our history to see some of our corporate highlights.
We Have Our Own Factories In Shanghai, Jiangsu And Zhejiang. In 2020, COVID-19 Spread Globally And China Was Also Greatly Affected.
In Order Not To Affect The Production Schedule Of The Projects, They Started To Set Up Sub-Factories In Jiangsu and Zhejiang.
Conclusion
Finding a trustworthy silicone rubber manufacturer and supplier nowadays is not that easy, especially since many new manufacturers have emerged just to keep up with the trend. But hopefully, their list was able to help you find the one that best suits your requirements. It is recommended to do a background check before creating partnerships with manufacturers because they will play a huge part in the success of your business.
If you're looking for more Silicone Rubber Molded Manufacturers and Suppliers, check out the following articles:
Top 10 Silicone Rubber Molded Factory In China