With the continuous growth of world trade, the European silicone rubber plastic market has developed rapidly, and the silicone rubber plastic machinery industry has gradually played an important role.
In recent years, the French market for silicone rubber products has taken a huge leap forward, with sales reaching 25.8 billion, ranking fourth in the world.
France is Europe's international economic center, international information center, international exhibition center, international fashion and culture center, and the second largest consumer market in the European Union.
The French silicone rubber plastics industry is the second largest in Europe (Germany, Italy and the United Kingdom come third) and fourth in the world (after the United States, Japan and Germany).
Are you looking for Silicone Rubber Molded Manufacturers and Suppliers in France? We have compiled the Top 5 Silicone Rubber Molded Manufacturers and Suppliers in France list for you to pick as below:
1. STERNE
Location: Cavaillon, France
Company type: Manufacturing
Year founded: 1996
The number of employees: 200-299
Main Services: Silicone raw material, Consulting Design and Development, Molding, Extrusion, Silicone Rubber Mold Making, 3D Silicone printing
STERNE Company Profile
STERNE was a solution provider, an intermediary between the customer's need and the manufacture. Located in Cavaillon, in the south-east of France, in Provence, Sterne owns sqm 4,000 factory including sqm 700 of clean rooms, classified ISO 6, ISO 7 and ISO 8…
They master extrusion, injection, overmolding, and co-extrusion into industrial environment and clean rooms. The company has been set up according to a quality system management in respect with ISO 9001 : 2015 and ISO 13485 : 2016 standards.
Experts in silicone elastomers since 1996, the company Sterne uses, at this stage, several kinds of silicone elastomers, with different consistencies : resin, mastic, High Consistency Silicone Rubber (HCR) and Liquid Silicone Rubber (LSR) with two main catalysts :peroxide and platinum.
2. Simplastic
Location: SCIONZIER, France
Company type: Manufacturing
Year founded: 1977
The number of employees: 200-299
Main Services: Thermoplastics injection moulding, Components and finished products, Components and finished products, Delivery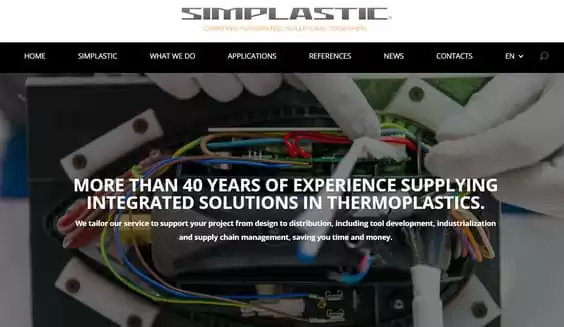 Simplastic Company Profile
Working together with a wide range of international customers since 1977, Simplastic has earned a reputation, especially in the French and German markets, of excellence in thermoplastics injection moulding, as well as in assembling components and finished silicone rubber products, providing time proven integrated solutions.
They are located near world renowned mould-production center, easily accessible from Lisbon, Oporto and Spain, through main highways. Their production facilities comprise a total indoor area of 10.000 sqm.
Simplastic's engineering team and skilled staff work closely with their customers at every stage of the project, from early development and tool design to manufacturing and assembly, until delivery.
3. CVA Silicone
Location: Lausanne, France
Company type: Manufacturing
Year founded: 1961
The number of employees: 200-299
Main Services: Liquid Silicone Rubber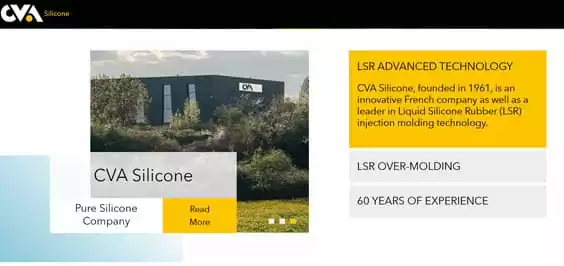 CVA Silicone Company Profile
CVA Silicone, founded in 1961, is an innovative French company as well as a leader in Liquid Silicone Rubber (LSR) injection molding technology.
Right from the start, CVA Silicone differentiated itself with a major patented innovation: a process with variable output to manufacture teats in natural rubber.
In 2009 Nicolas Oternaud, who had been General Manager of CVA Silicone for three years at that time, bought the company from the founders. He subsequently implemented a new strategy focused on core business and technological innovation. This became the company's new DNA.
CVA Silicone with its new production facility of 2.000 sqm, worth 1.6 million Euros, was established as a separate brand under the wing of CVA Technology.
Furthermore, the capacity of clean room production environment ISO 5 and 7 was increased for three times and the investment also entailed cutting-edge IMM solutions with 100% multi-axes robots, worth 1.9 million Euros.
4.URM
Location: Steenokkerzeel, France
Company type: Manufacturing
Year founded: 1935
The number of employees: 200-299
Main Services: Silicone Rubber, Custom Rubber Parts, Rubber Metal Parts, Hoses&Elbows, Extrusions, Plastics, Rubber Traffic Cones, Maintenance Plugs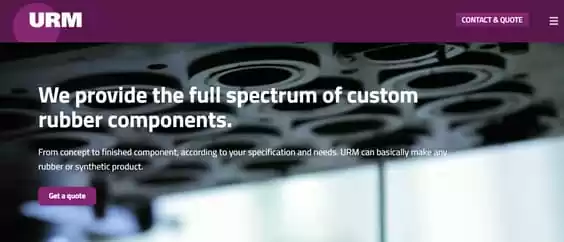 URM Company Profile
They offer excellent technical expertise in the rubber industry and respond quickly to their customers' questions. They provide professional assistance from the inquiry until the delivery of your finished product. URM is your all – round silicone rubber supplier for all rubber products that you need.
The company was founded in 1935 and has since grown into a renowed rubber company within Europe.URM is your partner in the development and production of high-quality rubber molded parts. Their staff can assist you with the realization of your product.
URM considers its customers as partners. They always aim for a long-term relationship and continue to look for improvement and optimization. They have implemented internal quality and management systems that meet the toughest standards. Strict supervision and control of the raw materials guarantee a constant quality of their silicone rubber products.
5. ALLIANCE CAOUTCHOUC
Location: Rochefort, France
Company type: Manufacturing
Year founded: 2003
The number of employees: 100-199
Main Services: Silicone rubber products, Chloroprene rubber, Injection Moulding, Precision Machining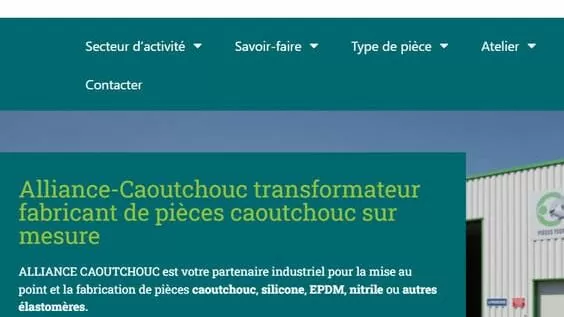 ALLIANCE CAOUTCHOUC Company Profile
Since 2003, ALLIANCE CAOUTCHOUC has manufactured all types of injection and compression molded items in rubber, silicone, EPDM, nitrile, Viton, Chloroprene, and other materials, all made in France.
ALLIANCE CAOUTCHOUC operates REP, MAPLAN, ROCHART and DESMA presses in capacities ranging from 40t to 630t, so that they can produce parts weighing from a few grams to several kilos, and in all hardnesses.
They also operate an large-format HURCO machine tool. As experts, they will design and fabricate the tooling and formulations of different materials you need, meeting your needs in terms of designing the best and most cost-effective mould for your application.
Alliance Caoutchouc has sufficient purpose-built space to store your moulds and parts so that they can meet your demands very rapidly.
Their policies include traceability of materials to ensure your receive consistent post-fabrication quality. Injection molding rubber is a technique that allows task automation for high and medium production runs to ensure the production of rubber parts at a controlled price.
If You're Looking For More Silicone Rubber Molded Manufacturers, Also You Can Choose A Chinese Injection Mold Supplier: Zetar Mold
Zetar Mold
Location: Shanghai, China
Company type: Manufacturing
Year founded: 2005
The number of employees: 201-300
Main Services: Silicone Rubber Product Design, Silicone Rubber Mold Making, Silicone Rubber Product Manufacturing, Assembly, Post-processing and Packaging
Other Products: Plastic Injection Mold, Plastic Injection Molding Manufacturing, Overmolding injection molding China, Insert Molding Products, 3D printing and CNC Prototyping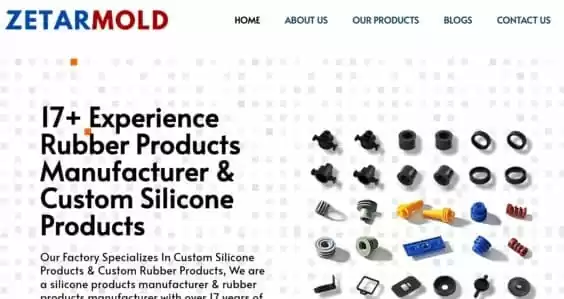 Zetar Mold Company Profile
Over the past 17+ years, we have built our company into a Silicone Rubber Product Design, Silicone Rubber Mold Making, Silicone Rubber Product Manufacturing, Assembly, Post-processing and Packaging all in one juggernaut.
Through steady organic growth and strategic acquisitions, we've seen decades of excellent performance. Scroll through our history to see some of our corporate highlights.
We Have Our Own Factories In Shanghai, Jiangsu And Zhejiang. In 2020, COVID-19 Spread Globally And China Was Also Greatly Affected.
In Order Not To Affect The Production Schedule Of The Projects, They Started To Set Up Sub-Factories In Jiangsu and Zhejiang.
Conclusion
Finding a trustworthy silicone rubber manufacturer and supplier nowadays is not that easy, especially since many new manufacturers have emerged just to keep up with the trend. But hopefully, their list was able to help you find the one that best suits your requirements. It is recommended to do a background check before creating partnerships with manufacturers because they will play a huge part in the success of your business.
If you're looking for more Silicone Rubber Molded Manufacturers and Suppliers, check out the following articles:
Top 5 Silicone Rubber Molded Factory In Japan