Silicone Rubber is a polymer containing organic polysiloxane in the main chain of the molecule as the main component. It is characterized by excellent heat resistance, cold resistance, oxidation stability, weather resistance, and good electrical properties.
In addition, it has advantages that other materials do not have in terms of compression properties, safety and hygiene, feel, transparency, gas permeability, and molding processability.
In the past 15 years, the production of silicone rubber has not only not decreased, but also increased year by year, and in 1989, the production of silane exceeded 100,000 tons for the first time.
The form of silicone rubber can be divided into silicone rubber oil and its processed products such as silicone grease, mixture, defoamer, and other synthetic products, silicone rubber products, resin, and silane.
It is estimated that in Japan, rubber products account for 50%, synthetic products account for 40%, and resins and silanes account for 10%.
Are you looking for Silicone Rubber Molded Manufacturers and Suppliers in Japan? We have compiled the Top 5 Silicone Rubber Molded Manufacturers and Suppliers in Japan list for you to pick as below:
1. PRC Co., Ltd.
Location: Niigata, Japan
Company type: Manufacturing
Year founded: 1993
The number of employees: 200-299
Main Services: Designing, manufacturing,, and sale of liquid silicone and rubber molds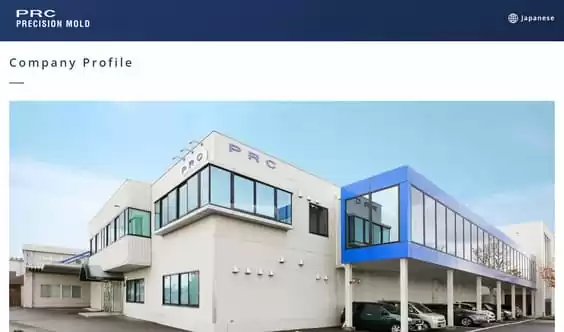 PRC Co., Ltd. Company Profile
In order for manufacturers to produce better products stably under high efficiency using our silicone rubber molds, they work to further evolve their technology with the polished exploring spirit in Japan where the tradition of craftspersonship is alive and cherished.
Rubber and resin parts play an important role in their lives from automobiles, medical instruments and sports equipment to weather satellites. PRC, are the experts in silicone rubber injection molds, enhancing the accuracy and reliability of these parts to help make people's lives better and better.
Through the power generated from strong Person to Person (P) Reliance (R), they realize new Creations (C). They are Japanese artisans who master secrets and create a strong and precise outcome.
2. Correns Corporation
Location: Tokyo, Japan
Company type: Manufacturing
Year founded: 1948
The number of employees: 200-299
Main Products: Laser scan modules, optical systems, printed circuit boards, electrical and mechanical sub-assemblies, Precision motors, fans and mechatronic parts for office automation equipment
Correns Corporation Company Profile
Correns Corporation was founded in 1948 in Tokyo and has since been focusing on importing leading European machines and special components to Japan. They strive to bridge the informational, geographical, and cultural gap between Europe and Japan.
Besides the strength of their skilled sales engineers, their local technical service personnel's support and maintenance expertise is highly evaluated and helps them to differentiate.
Through the long-lasting win-win relationships with their European supplier base, they have managed to establish a firm reputation of trust within the Japanese market.
3. MEIHO CO., LTD
Location: Fukuoka, Japan
Company type: Manufacturing
Year founded: 1973
The number of employees: 100-199
Main Services: Precision Mold Dies for Semiconductors, Blow Mold Dies, Precision Mold Dies for Injection Molding, Liquid Silicone Rubber Molding Dies (LIM Mold Dies), and Precision Machine Parts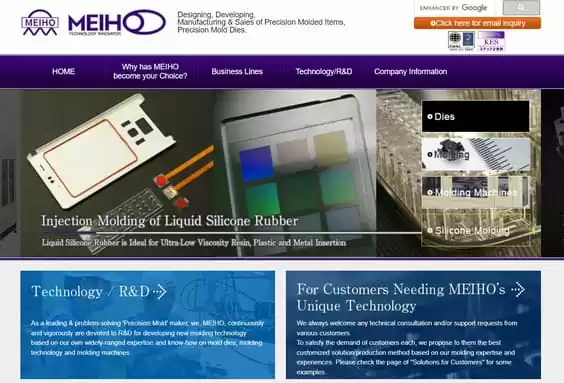 MEIHO CO., LTD Company Profile
They proudly manufacture mold dies and mass-produce molded items. This manufacturing and production is based on our over-40-years' designing and manufacturing technology of mold dies and based on their own expertise of precision Liquid Silicone Rubber of injection molding.
Their expertise and know-how have been accumulated through over 100 cases of molding tests per year. Their manufacturing factory is clean and dust-free. Production by Mold Die and Molding Divisions is proudly performed at such clean environment.
The quality of the items manufactured are controlled and assured thoroughly by Quality Assurance Section of each division for customers' satisfaction.
4. Mitsuba Mfg. Co., Ltd
Location: Shinagawa-ku, Tokyo
Company type: Manufacturing
Year founded: 1930
The number of employees: 200-299
Main Products: Extrusion molding machines and related equipment, Rubber and thermoplastic, Welding machines: Automatic wire mesh builders, spot welders, projection welders, Rubber Extruder With Gear pump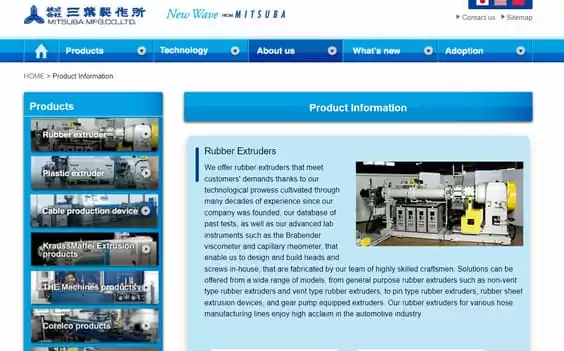 Mitsuba Mfg. Co., Ltd. Company Profile
MITSUBA was founded back in 1930, in Shinagawa, Tokyo. Since then they have been serving customers with our various products from their plastic and rubber extruding factory, and our electric wire coating plant.
MITSUBA has long been supplying reliable products, and has been recognized as a top manufacturer in these areas. From the beginning, MITSUBA has offered personalized production services to meet the needs of their customers.
Over the past few years, they have made a substantial investment in enhancing their production systems and facilities, to provide even lower costs while continuing to improve quality with better service. They have been rewarded with the fruits of their labor.
Now, in the 21st century, they at MITSUBA will continue to devote themselves to studying and developing creative and innovative means of ensuring high quality to supply reliable and trusted products and services to their customers.
5. Ohashi Technica, Inc.
Location: Minato-ku, Tokyo
Company type: Manufacturing
Year founded: 1953
The number of employees: 100-199
Main Services: Rubber O-Ring, Rubber product, Rubber cushion mat
Ohashi Technica Company Profile
All of Ohashi Technica's sales staff are technical experts. They anticipate the issues and needs of customers including auto manufacturers and auto part manufacturers and use their cutting-edge technical knowledge, quality, processes, management, cost control, and expertise to solve problems speedily.
They not only have a network of about 300 subcontractors that are highly competitive in processes, quality, cost, and technical ability, but also have functions for technical development and manufacturing in their own environment.
By combining their rich subcontractor network with their original Ohashi Technica technology and manufacturing functions, they answer all of their customers' needs as they supply them with the ideal and best auto parts.
If You're Looking For More Silicone Rubber Molded Manufacturers, Also You Can Choose A Chinese Injection Mold Supplier: Zetar Mold
Zetar Mold
Location: Shanghai, China
Company type: Manufacturing
Year founded: 2005
The number of employees: 201-300
Main Services: Silicone Rubber Product Design, Silicone Rubber Mold Making, Silicone Rubber Product Manufacturing, Assembly, Post-processing and Packaging
Other Products: Plastic Injection Mold, Plastic Injection Molding Manufacturing, Overmolding injection molding China, Insert Molding Products, 3D printing and CNC Prototyping
Zetar Mold Company Profile
Over the past 17+ years, we have built our company into a Silicone Rubber Product Design,Silicone Rubber Mold Making, Silicone Rubber Product Manufacturing, Assembly, Post-processing and Packaging all in one juggernaut.
Through steady organic growth and strategic acquisitions, we've seen decades of excellent performance. Scroll through our history to see some of our corporate highlights.
We Have Our Own Factories In Shanghai, Jiangsu And Zhejiang. In 2020, COVID-19 Spread Globally And China Was Also Greatly Affected.
In Order Not To Affect The Production Schedule Of The Projects, They Started To Set Up Sub-Factories In Jiangsu and Zhejiang.
Conclusion
Finding a trustworthy silicone rubber manufacturer and supplier nowadays is not that easy, especially since many new manufacturers have emerged just to keep up with the trend. But hopefully, their list was able to help you find the one that best suits your requirements. It is recommended to do a background check before creating partnerships with manufacturers because they will play a huge part in the success of your business.
If you're looking for more Silicone Rubber Molded Manufacturers and Suppliers, check out the following articles:
Top 5 Silicone Rubber Molded Factory In Russia