India's economy is diversified, ranging from agriculture, handicrafts, textiles to services. India is one of the world's fastest growing emerging economies and one of the top 10 economies in the world.
2016 saw the Indian economy overtake the United Kingdom for the first time, making it the sixth largest economy in the world in terms of gross domestic product (GDP). In terms of growth, India's GDP grew by 7.3% in fiscal year 2014/15, surpassing China as the fastest growing of the world's major economies.

Are you looking for Silicone Rubber Molded Manufacturers and Suppliers in India? We have compiled the Top 10 Silicone Rubber Molded Manufacturers and Suppliers in India list for you to pick as below:
1. Accurate Rubber Industries
Location: Mumbai, India
Company type: Manufacturing
Year founded: 1980
The number of employees: 200-299
Main Products: O-Rings, Oil Seals, Silicone Rubber Products, Rubber Expansion Joints&Bellow, Rubber to Metal Bonded Components, Rubber Sheets, Polyurethane Products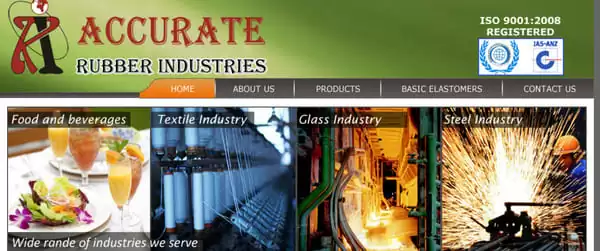 Accurate Rubber Industries Company Profile
Accurate Rubber Industries is leading high quality Industrial Silicone Rubber Products, Rubber Compounds Manufacturers & Suppliers in Mumbai (India). The company philosophy of treating each and every clients, his requirements & his conditions as separate and unique and to design from scratch for each such set of parameters as opposed to standardize solutions, has paid rich dividends.
Mr. Manan Shah has built around himself an excellent team of highly qualified, experienced, and talented professional supporters. Moreover, from success to success as they expand markets across industries and geographically.
They talk about best quality, indigenous, import substitute and mass quantity with the best services of rubber molded/moulded, rubber extruded, rubber viton products, parts & components in any industry and the name ACCURATE RUBBER comes to ones mind first.
Creative design, incorporation innovative concept coupled with a passion for delivering only the very best, sticking to predetermined schedule and continued after sales-monitoring and up-gradation back up, has been the hallmark of their total commitment to their clients.
2. Genstar Technik
Location: Maharashtra, India
Company type: Manufacturing
Year founded: 1996
The number of employees: 200-299
Main Products: Baby Silicone Rubber products, LSR Ear Plugs &Optical products, LSR Mask, LSR Seals, Medical Products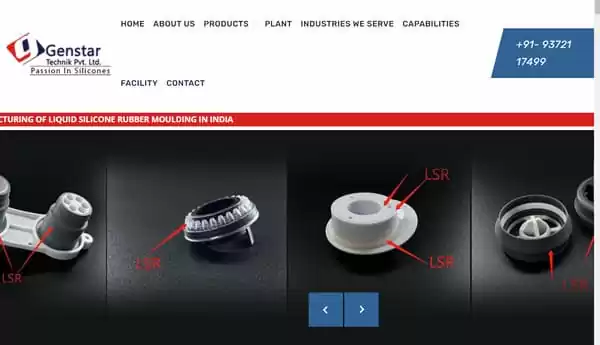 Genstar Technik Company Profile
Genstar Technik is a research & technology driven company, Pioneers in custom manufacturing of Liquid Silicone Rubber molding in India with 100 % German Technology.
Genstar capabilities for OEM projects include R & D, tooling, assembly for finish products etc. Especially our expertise in Liquid silicone rubber injection molding (LIM), LSR + Plastic, LIM + Metal, LSR + LSR, Multicomponent molding with runner less cold runner technology.
They have executed many projects for Biodegradable implants plastics like PLA, BETA TCP, PEEK & many more, right from development stage to final execution.
Their core competency is providing complete Turnkey integrated solutions for mass production, Right from designing to tool development & Manufacturing needs. Genstar is certified under ISO 9001 and ISO 13485 system.
3. FUSION POLYMER INDUSTRIES
Location: Gujarat, India
Company type: Manufacturing
Year founded: 1990
The number of employees: 200-299
Main Products: Silicone Rubber Gasket, Bus Body Profiles, Silicone Rubber Tubings India, Rubber Rings India, Rubber Cords India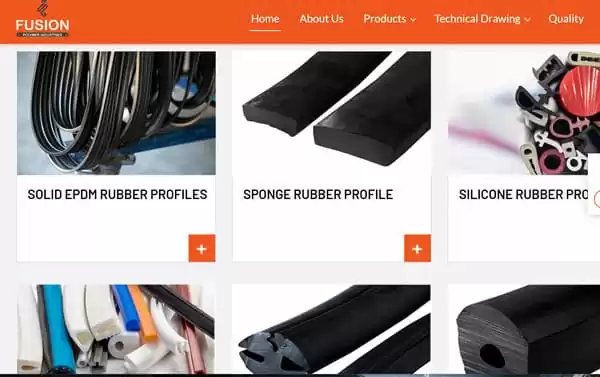 FUSION POLYMER INDUSTRIES Company Profile
Rubber products are the finest materials which are used by a wide range of industries across the globe. Rubber parts are extensively used in several industries as they are capable of offering both flexibility and durability. Though, elastomers are intricate materials.
Therefore, it is utmost important to use the custom rubber parts of moulded silicone rubber parts carefully. Also, the rubber parts be chosen perfectly for the application. The properties of the rubber parts are good, therefore, they have numerous applications. Rubber products have decent thermal and insulation characteristics.
Rubber parts manufactured by Fusion Polymers have outstanding weather resistance. They can be made in any color as per the requirements of the clients. Also, rubber parts India have excellent aesthetic looks.
The company has installed most sophisticated manufacturing facility, well equipped with latest technology machinery called MICROWAVE CURING SYSTEM FOR EPDM AND SILICONE RUBBER PROFILES and testing equipment. All these facilities are handled by well trained and qualified team of engineers & technicians. They have dedicated engineers' team for client support from product development to product supply.
4. Moulik Rubber Industries
Location: Maharashtra, India
Company type: Manufacturing
Year founded: 1990
The number of employees: 200-299
Main Services: O-Rings, Seals, Oil Seals, Gaskets Washers, Metal to Rubber Bonded Parts, Rubber Bush, Rubber sheets, Anti Vibration Mounts

Moulik Rubber Industries Company Profile
Moulik Rubber Industries was founded and established by Mr. Harshad Shah in the year 1990. His experience in the field of silicone rubber manufacturing and persistent hard work over the last three decades has made the company a prominent name in the rubber industry.
Their competency lies in Customization, where they can develop any products based on their clients desired specifications of Shape, Size, Design, Hardness & other parameters.
Moulik Rubber Industries is determined to understand those specific needs and provide application-based solutions with consistent efficiency. To list a few examples, they serve the Electrical Control & Switch-gear industry with products that are RoHS compliant as well as adhering to the various IP standards.
Gas regulators and CNG / LPG appliances, make products as per EN 549 standards. For pharmaceutical applications, their products are Non-Toxic and food grade in nature. For Pumps / Valves and other Industrial applications, they use anti-corrosive and high tensile products.
5. Aggarwal Rubber Industries
Location: Haryana, India
Company type: Manufacturing
Year founded: 1992
The number of employees: 100-199
Main Services: Polyurethane, Silicone&Rubber Components, Grommet, Molded Rubber Products, Rubber Seals
Aggarwal Rubber Industries Company Profile
Aggarwal Rubber Industries are a preeminent organization, engaged as a manufacturer Polyurethane, Silicone & Rubber Components, since 1992. The range offered by us encompasses PU Components, Silicon Rubber Components and Automotive Rubber Parts.
The range offered by us is well-known in the industry for its features such as non toxicity, elasticity, high resistance to abrasion, lightweight, high strength, corrosion resistance, high tolerance level, low compression and high tearing strength, easy installation and fine finish. Owing to these features, their offered range is demanded across the nationwide market.
Supported by a team of skilled and diligent professionals, they are able to accomplish the business goals in prominent manner. These professionals are selected after rigorous assessment of their knowledge and skills.
Their team works in close coordination among each other to understand the requirements of customers in efficient manner. Their team comprises engineers, quality controllers and administrative personnel, which works in proficient manner.
Apart from this, to gain maximum client satisfaction, they aim to dispatch their products on-time to the customers' premises. Constructing a spacious warehouse facility, which is segregated into different departments, they are able to store their products systematically.
If You're Looking For More Silicone Rubber Molded Manufacturers, Also You Can Choose A Chinese Injection Mold Supplier: Zetar Mold
Zetar Mold
Location: Shanghai, China
Company type: Manufacturing
Year founded: 2005
The number of employees: 201-300
Main Services: Silicone Rubber Product Design, Silicone Rubber Mold Making, Silicone Rubber Product Manufacturing, Assembly, Post-processing and Packaging
Other Products: Plastic Injection Mold, Plastic Injection Molding Manufacturing, Overmolding injection molding China, Insert Molding Products, 3D printing and CNC Prototyping
Zetar Mold Company Profile
Over the past 17+ years, we have built our company into a Silicone Rubber Product Design, Silicone Rubber Mold Making, Silicone Rubber Product Manufacturing, Assembly, Post-processing and Packaging all in one juggernaut.
Through steady organic growth and strategic acquisitions, we've seen decades of excellent performance. Scroll through our history to see some of our corporate highlights.
We Have Our Own Factories In Shanghai, Jiangsu And Zhejiang. In 2020, COVID-19 Spread Globally And China Was Also Greatly Affected.
In Order Not To Affect The Production Schedule Of The Projects, they Started To Set Up Sub-Factories In Jiangsu and Zhejiang.
Conclusion
Finding a trustworthy silicone rubber manufacturer and supplier nowadays is not that easy, especially since many new manufacturers have emerged just to keep up with the trend. But hopefully, their list was able to help you find the one that best suits your requirements. It is recommended to do a background check before creating partnerships with manufacturers because they will play a huge part in the success of your business.
If you're looking for more Silicone Rubber Molded Manufacturers and Suppliers, check out the following articles:
Top 5 Silicone Rubber Molded Factory In Germany